Antique Chairs - Item 3214
Gothic Armchair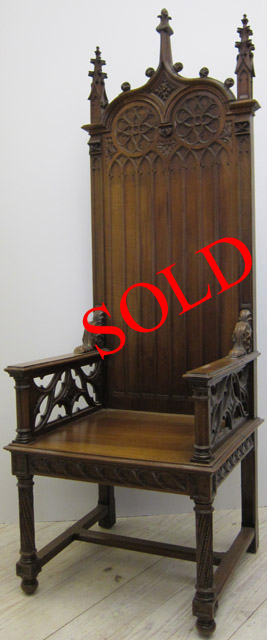 (scroll down for additional photos)
Item 3214
Gothic Armchair or "Throne" Chair
Dimensions
Width 24, Height 73

½

, Depth 23 (in inches)
Wood
Walnut
Country
France
Date
Circa 1890
Description

This chair is one of the most unique we have ever encountered, both in terms of its grand size and stupendous carving. In its overall structure, it harks back to the chayre of Medieval France: a high-backed design whose seat doubled as the top of a box derived from the chest or coffre for securing valuables. This design was popular in northern France in the late 15th century and incorporated standard Gothic elements such as tracery (fenestrage), finials, and linen-fold panels.

Only later modelsboasted highly intricate carving and were made of walnut, as is this one, rather than oak. Along the way, the backs grew ever higher. These became known as sièges d'apparat or ceremonial chairs, meaning that they signaled the importance or status of their occupant.

This chair is a19th century interpretation of the chayre retaining the grandeur of design but offering greater portability and versatility by having an open bottom based on an "H" shaped stretcher – an interpretation of the chayre adapted by French designers during the "Second Renaissance" of the later 16th century.

The design of theback features elongated Gothic (pointed) arches crowned by two circular motifs combining elements of the rosace or rose window and the quatre feuille or quatrefoil. The back of the chair is topped by a central finial, which forms part of the pointed arch that frames the entire back, and more elaborate finials on both sides. The crocketing or mini-oak leaves (rather than the standard acanthus leaf) ornamenting the top of the ogive arch between the outer finials, is beautifully carved. It mirrors the tiny oak leaves at the top of the arches carved into the finial structures on either side of the chair.

Below the armrests is openwork tracery, intricately carved and showing the virtuosity of this chair's maker. At the junction of armrest and back is a tightly wound, stylized acanthus leaf ornamenting the junction of chair back and armrest.

Reference

Ader-Tajan, Collection Bruno Perrier Haute Epoque (Catalog for Sale at Auction on April 6, 1992 at the Hôtel Drouot, Paris); Boccador, Jacqueline, Le Mobilier Français du Moyen Age à la Renaissance, Editions d'Art Monelle Hayot (Saint-Just-en-Chaussée, 1988); Charles, Corinne, Visions d'Intérieurs, du Meuble au Décor (Paris-Musées, Paris, 2003); Thirion, Jacques, Le Mobilier du Moyen Age et de la Renaissance en France (Editions Faton, Dijon, 1998); Viollet-le-Duc, Eugène, Le Mobilier Médiéval (Georges Bernage, editor) (Editions Heimdal, 2003)

Uses

As used by the 19th century French novelist Victor Hugo who collected Gothic Revival furniture, such a high-backed chair is ideal for a dining room, signaling the rank of paterfamilias or otherwise elevated status. It would also lend authority to a foyer or entryway, library, or any room inviting a bit of grandeur. Given that the back is finished, unlike most others we see, it would also be suitable for placing at an angle in front of a fireplace.