Antique Tables - Item 5126
Walnut Farmhouse Table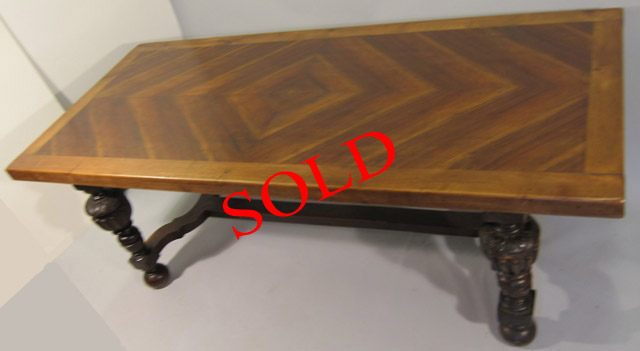 Click on photo to enlarge

(scroll down for additional photos -- difficulties of photographing with flash have accounted for the variation in hues, but the photo above most accurately reflects the color)

Item 5126
Walnut Farmhouse Table
Dimensions

Length 84; Height 37½; Depth 31 (in inches)

Wood
Solid walnut
Country
France
Date
Circa 1910
Description

We're calling this a farmhouse table because it is massive and made partly from old-growth walnut, but it's really a bit more formal than that owing to the elaborate top. It's the kind of table we envision in a large, bright kitchen where family and friends can gather to plan and cook a hearty meal washed down with an earthy wine from the heart of France. Made of solid walnut and veneer with an unusually designed top, this table embodies what it means to be French in a timeless manner evoking the joy of cooking and eating for generations to come.
Like a family, this table unites disparate elements across multiple generations and whose sum is greater than the whole of its parts. The top is not the original one for which the base was made. In the French antiques business, such a table is called a mariage and, like unions involving people, some are more successful than others. We think this one works well, and promises to endure a century or two longer.
The top is a masterpiece of contrasting colors of walnut veneer in an overall chevron design radiating out from the center where the pattern begins as corners of a small square. It is unusual to find a table with such an elaborate design used for the top since 19th century French dining tables were always covered with a cloth when a meal was served. This leads us to think that the top may be from a later time and too beautiful to hide.
The base is darker in color and likely older, considering its construction and condition. There has been some deterioration in appearance on one of the legs but this does not affect its structural integrity. In overall design, the roots of the table's base lie in the Renaissance and in the area stretching from the Loire Valley to Fontainebleau. The bulbous and elaborate decoration in the form of a poignée or fist (what the British would term cup-and-cover) on each leg is found in many types of furniture belonging to the so-called Second Renaissance traceable to Fontainebleau during the reigns of François I and Henri II. This form is also found on legs supporting beds and library tables as well as part of the vertical support for the case of dressoir cabinets. Often, the gadrooning or pattern of ribs is also seen on the frieze below a table top, in the case of Items 4137 and 9310.
The H-shaped stretcher comprising the bottom of the table base is also characteristic of Renaissance design. That the shorter pieces on the ends are fastened to the longer cross-piece with chevilles or wooden dowels also leads us to believe that the base could be much older than the top. This technique, literally a square peg inserted into a round hole, involved tapering the dowel and driving it into the wood, then sawing off the excess to result in a smooth surface. The result was a much more secure joining of the two pieces than when screws were used in later times. The atoms of the wood changed to embrace the dowel and ensure that it would never be loosened. This simple yet practical technique has ensured that furniture remained intact through centuries of use. In order to support the weight of the tabletop, the base has been reinforced at each end.


Reference

Boccador, Jacqueline, Le Mobilier Français du Moyen Age à la Renaissance, Editions d'Art Monelle Hayot (Saint-Just-en-Chaussée, 1988); Burckhardt, Monica, Mobilier Moyen-Age, Renaissance (Editions Ch. Massin, Paris, Undated); Thirion, Jacques, Le Mobilier du Moyen Age et de la Renaissance en France (Editions Faton, Dijon, 1998)


Uses

This table is ideal for a large dining room where it should seat 8 people comfortably. It is suitable for a kitchen or dining room where its lovely top should be on regular view.